Sharpstown High School

Well the buzz is out there about the multi-year reunion that the Class of '77 has been organizing. This is not the Class of '76 official reunion. Our 45th was postponed due to another surge of Covid cases and we have not made plans for another until our 50th. This is for SHS Classes of '76, '77 and '78 but is open to the public as well. Doors open at 7pm and show starts at 8:30pm.
In the meantime, we encourage all of our classsmates to come join the fun and represent the Class of '76 at the multi-year reunion on October 22. It will be a great time to get together with the other classes! They have a really great band lined up for the night. (Already Gone is an Eagles cover band). For more information, please contact Julie Orlin Pickett (Class of '77) on messenger.
Hope to see everyone on October 22 at The Pub Fountains.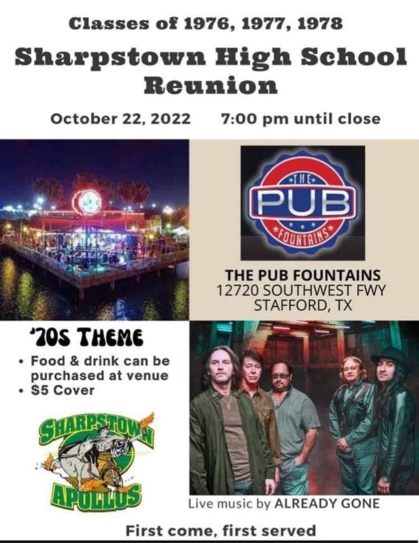 Daniel Hite (Class of '77) is also organizing a golf tournament on October 21 at Greatwood Country Club. More details and contact information further below.
All Sharpstown golfers, we are going to try to get a group together for a round of golf Friday, 10-21 at Greatwood golf course, 6767 Greatwood Pkwy, Sugar Land, TX 77479. I think we should try to tee off no later than 0900. Please respond to me (Daniel Hite) in messenger as soon as possible so I can get a count and get us scheduled at the course. I know this is last minute so please reply as soon as possible. I'm thinking a 4 man scramble. If you have a foursome already let me know, otherwise we can try to group you all together. Looking forward to seeing you all there!
Update: Latest list of confirmed players: foursome, Danny Moore, Larry Montgomery, Drake Terrell and Mike Heard. Foursome Daniel Hite, Paul Hamilton, Tim Smith and Lee Porterfield. Foursome, Kevin Shannon, Curtis Kouba, Greg Hughes and Rick Nixon. Foursome Jimmy Holzhauser, Tommy Thompson, Mickey Hicks and Todd Irwin. Foursome Dave Meaders, Jack and Michelle Clark and Steve Heller. Single Ken Sloan and Jim Leavelle is an alternate. So 21 confirmed and 1 alternate. I'd like to get a few more so we have complete foursomes. I need to get with the course again to finalize our count so please, if your thinking about playing go ahead and do it and let me know, preferably via messenger as I don't frequent Facebook that much.
Your profile is visible to anyone that accesses the website unless you take the appropriate measures. If you choose to give ONLY logged-in classmates the ability to view your page (recommended), check the box "Profile Visiblity" on the bottom of your profile page. Remember when you do this, friends and family will not be able to see it. This is entirely your choice.
PRIVACY NOTICE: All contact information (address, phone number, e-mail address) entered into this website will be kept confidential. It will not be shared or distributed. Your contact information is private: your street address, e-mail address, and phone number cannot be seen by the classmates unless you grant permission on your Profile. When someone clicks on your name, the only contact information they will see is your city and state and whatever information about yourself you choose to put on your Profile. Unless you explicitly grant your permission, your e-mail address is not visible, although an e-mail can be sent to you using the contact box at the bottom of your Profile page.
---
If you like our website and would like to use Class Creator to get connected with your classmates, please use our unique PROMO CODE M3895957 when registering or

click here

and it automatically takes you to their website and gives SHS Class of '76 a $50 referral fee upon subscribing to Class Creator. It's that easy.
---
---